Function Hall Rental Information
We are proud to have "Cormier Catering" as our catering partner! Over 60 years of producing the best experiences for celebrations of all kinds. Please email Brad Durrin [GM] of Maynard Golf Course to book your event at braddurrin@live.com.
Please place "Function" in the subject line, include your phone number and Brad will reply ASAP.
For food and menu information please call Liz of Cormier Catering  at 978-342-4568.
Dear Event Planner,
We appreciate your consideration of the Maynard Golf Course Function Hall as the location for your special event.  The facility has been recently renovated and offers pleasant golf course views that offer a welcoming and hospitable atmosphere. Recent additions have been, a showpiece Fireplace renovation, new function room chairs, new carpet, and a new built-in dance floor along with fresh paint. Come enjoy a summer cocktail on our beautiful deck overlooking the golf course. We would be pleased to customize an event to include virtually any aspiration, so please don't hesitate to ask if there is something we can assist with to make your function a memorable occasion.
If you would like to check available dates or schedule a visit to view our facilities, please E-mail Brad Durrin [GM] of Maynard Golf Course to book your event at braddurrin@live.com. We hope we have answered most of your questions in our function package, but we realize you may have other inquiries or would like a special request, so we welcome your call. We look forward to working with you to make your event as wonderful as possible. Due to high demand, we are able to hold a date for a few days but require a $100 deposit to guarantee your special day.
We hope you will choose the Maynard Golf Course Function Hall for your event and that we will have the opportunity to work with you to make sure it is a memorable occasion for both you and your guests.
Best Regards, Brad Durrin, General Manager: 978-637-2268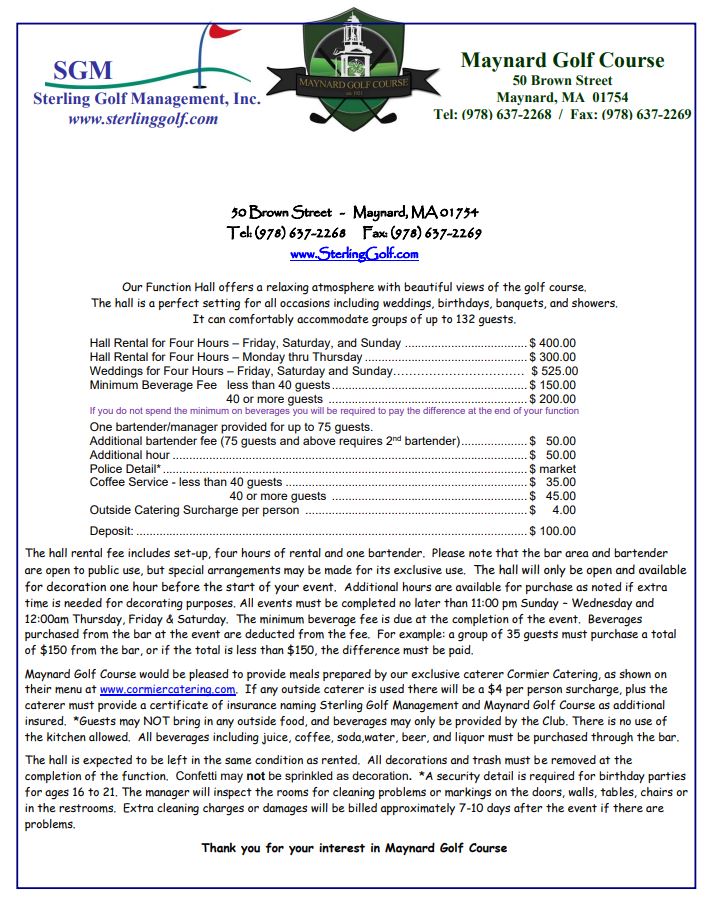 Download Function Hall Agreement