Function Hall Rental Information
The function facility at Maynard Golf Course offers a relaxing atmosphere with beautiful views of the golf course. It is a perfect setting for all occasions including weddings, birthdays, banquets, receptions and showers and can comfortably accommodate groups of up to 132 guests. Recent upgrades include new carpet, new chairs, a spectacular new sound system, along with all new flat panel televisions. Our new deck overlooking the golf course is available for you to enjoy your favorite beverage and meal while watching golfers traverse the 9th hole home.
The cost for a four hour hall rental on Friday, Saturday or Sunday is $350, Weddings are $500, and on Weekdays Monday through Thursday it is only $250, which includes bartender and set-up fee. Maynard Golf Course would be pleased to provide meals prepared by our in-house chef and menus will be included with the Function Hall contract and informational package.
Thank you for your interest in using the Maynard Golf Course's Function Hall for your event. We will do our utmost to make sure it is a memorable occasion for everyone who attends.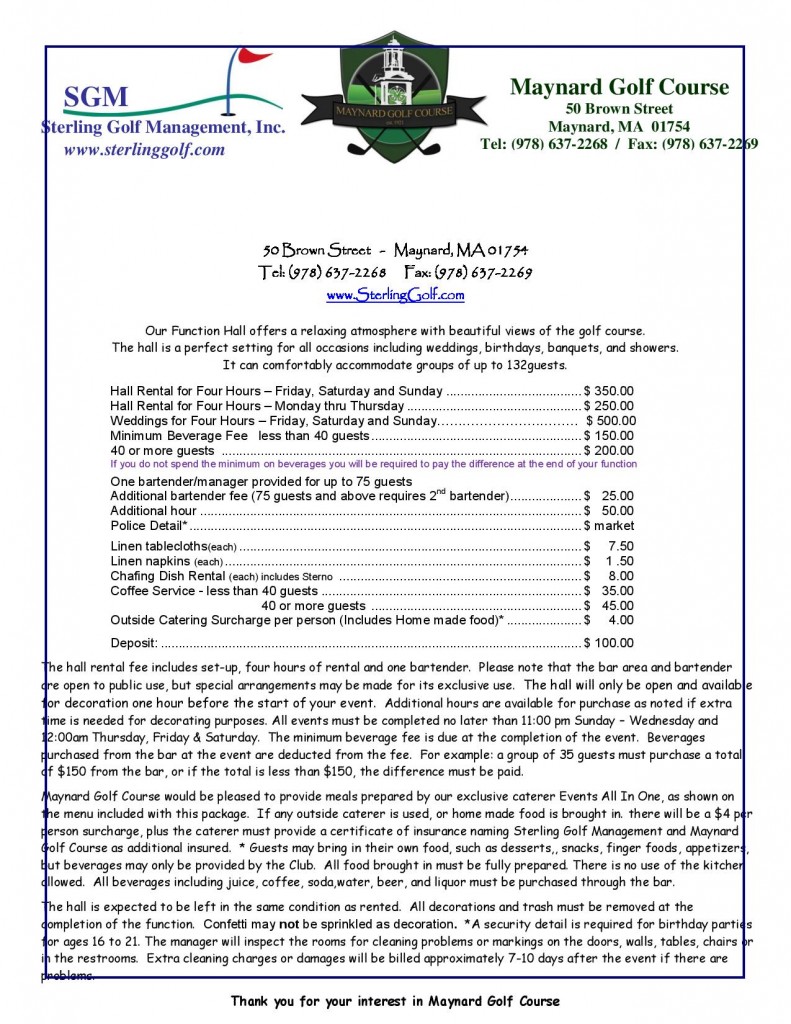 Download Function Hall Agreement
Contact Lee Ann, our function coordinator, 978-815-0369 or by email at lee@sterlinggolf.com for more information or to schedule your event.